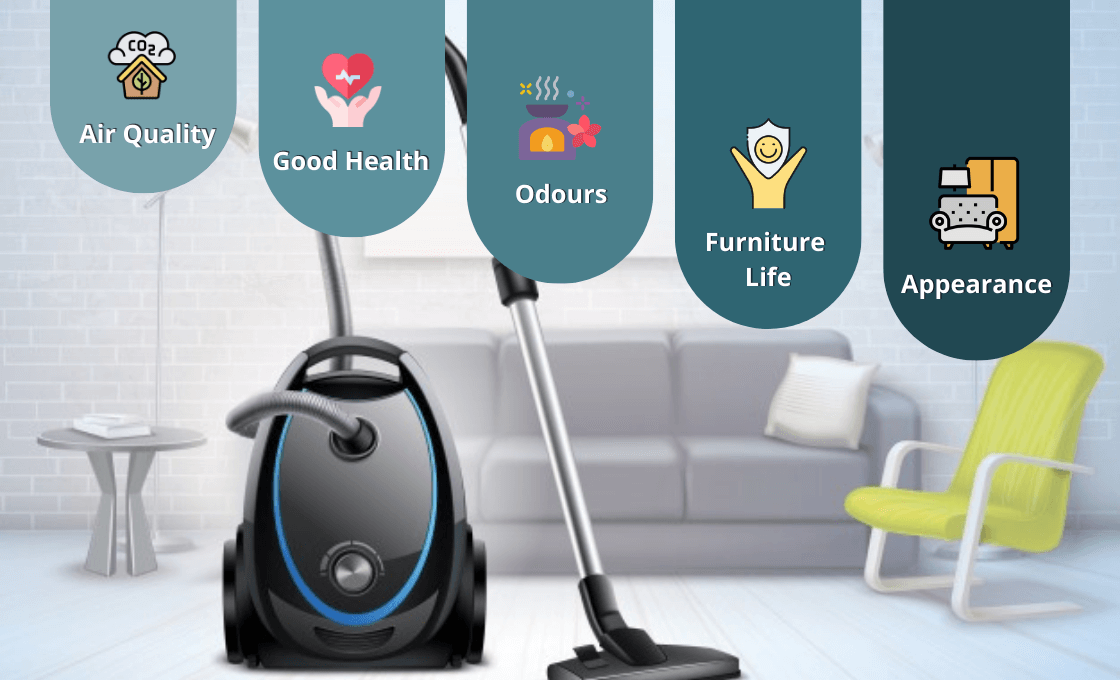 By stalbertcarpet
13 Jan 2022
Standard upholstery cleaning is vital since there is a great deal of joy and life around your furniture. It is advisable to keep your couch, seats, sectionals, and other furniture on the deep cleaning list, as these are the prominently used objects in our daily lives.
If you don't remove stains from upholstery on a regular basis, it is more likely that your furniture will experience bacterias and other germs that are harmful to you and your family.
According to the statistics provided by CLEAN CARE, it is mandatory to carry out upholstery cleaning once or twice every two years and perform deep cleaning of your sofa every six months, unless they are too dirty to be cleaned before that.
There are a variety of tools and professional services available as carpet and upholstery cleaner which will remove stains from upholstery.
To avoid having a couch with stains and foul scents, it is advisable to occasionally get professional furniture cleaners to perform a deep cleaning to remove stains from the upholstery and give your furniture a new and cleaner look!
PROFESSIONAL UPHOLSTERY CLEANING SERVICES:
Upholstery cleaning is assistance given to carpet cleaning companies. You'll frequently discover companies that exclusively provide upholstery cleaning services.
Professional rug cleaners are gifted at dealing with upholstery, including extremely sensitive textures and can provide good upholstery cleaning services. Therefore, professionals are adequately experienced to realize what types of items and procedures to use on which textures!
A professional upholstery cleaning company can eliminate all the accumulated dirt from furniture, for example, sofas, couches, chairs, lounge area seats and beddings!
Let's look at the essential benefits of upholstery cleaning
BENEFITS OF UPHOLSTERY CLEANING:
1- Air Quality
Having your upholstery loaded with dust, allergens, mould, or old stains can adversely influence the air quality in your home.Upholstery cleaning services and deep cleaning can add a lot of years to your furnishings.
The most professional upholstery cleaning services provide the best upholstery cleaning and develop great indoor air quality.
2- Health
Did you know that the allergens, dust parasites, insects, and microscopic organisms can get into the strands of your upholstery and, if left excessively long, can cause several infections.
Additionally, if anybody in your family is already allergic to dust, he/she is more likely to be severely affected by the pollutants and dirt on the upholstery. Keeping up on routine upholstery cleaning radically decreases the presence of these pollutants and thus assists with keeping your home and family's health sound.
3- Odours
The family sofa and furniture is the place where the family spends a lot of time and bulk activities take place. For almost all of us, lounge furniture becomes the family's favourite hang-out spot and hence, a ton of dirt occurs on your furnishings. Additionally, cooking scents from the kitchen stick to your upholstery, which adds a terrible smell in the upholstery. Upholstery cleaning and deep cleaning helps eliminate those scents by removing the source.
4- A Longer Life for Your Furniture
Your furniture is a long-time investment. Regardless of whether you have accidentally spilled milk or body oil, cleaning your furniture routinely can broaden the existence of your furniture.
One of the top benefits of professional upholstery cleaning is that an upholstery cleaning company will deep clean your upholstery and also provide suggestions to maintain the upholstery in future.
5- Appearance
Irrespective of how spotless your home is, if the upholstery on your furniture looks dirty, it ruins the entire look. It is advisable to have your carpet cleaning professional include upholstery cleaning while they come to clean your rugs the next time.
6- Longevity
The blurred, dirty and diminishing look that your furniture upholstery gets is brought about by residue and soil sticking on the texture.
A professional upholstery cleaning cleans the upholstery in and out and the deep cleaning ensures that your furniture endures quite a while.
CONCLUSION-
In a nutshell, simply getting rid of the spots and coloured stains from your furniture is not a wholesome cleaning process. Deep cleaning your furniture and upholstery cleaning with the right professional is indeed a prerequisite for effective maintenance.
Professional upholstery cleaning reestablishes the general tone, and removes odour, eliminates stains, reduces allergen and prolongs the life of the furniture.
St Albert carpet cleaning provides one of the exceptional and distinguished professional upholstery cleaning services in St Albert and Edmonton area. Visit the website Click Here for further information and to check out the services that we provide!
In case you have any questions or queries regarding the same, feel free to contact us at  info@stalbertcarpetcleaning.com or call us on +1 780-974-1779